Patek Philippe combines watchmaking artistry with exquisite rare handcrafts.
On the occasion of the "Rare Handcrafts 2020-2021" exhibition, the Genevan manufacture presents a world debut with six models of grand complication timepieces or icons of watch design featuring artistic decorations such as manual engraving, grand feu cloisonné enamel, grand feu champlevé enamel, grand feu flinqué enamel, manual guilloching and gemsetting.
Since the company was founded in 1839, Patek Philippe has always considered its watches to be works of art that reflect the refined aesthetics of mechanical perfection. The quest for immaculacy and harmony comes to the fore in understated, elegant, and timeless designs. It is further emphasized by quality in craftsmanship and the manually executed finissage. With the same passion, Patek Philippe cultivates all techniques used to decorate timepieces, assuring that these skills are handed down from one generation to the next.

This manifestation of ancestral artisanship is not reserved exclusively for one-of-a-kind pieces and limited editions that, year after year, constitute a new rare handcrafts collection. Patek Philippe also perpetuates these skills in its everyday work and with them decorates watch models from the current collection. Manual engraving enlivens the cases and dials of watches such as the Ref. 5160/500 perpetual calendar with a retrograde date, the Ref. 5088/100 Calatrava "Volutes and Arabesques", and the Ref. 5180/1 skeletonized Calatrava. Guilloched hobnail motifs decorate the cases of exceptional models such as the Ref. 6300 Grandmaster Chime (the most complicated Patek Philippe wristwatch with 20 complications) and the Ref. 5531 World Time Minute Repeater. Grand feu enamel enhances the dials of certain grand complications, including several minute repeaters. As a special facet, the famous World Time watches feature dials with manual guilloching or decors in cloisonné enamel. Gemsetting is a sparkling highlight of a number of grand complications and transforms haute joaillerie models into precious jewels. Patek Philippe is adding six debuts to this rich selection.
Ref. 6002R-001 : Sky Moon Tourbillon Haut Artisanat
A hand-engraved rose-gold case with a brown dial in grand feu champlevé and cloisonné enamel
Launched in 2001, the Ref. 5002 Sky Moon Tourbillon is Patek Philippe's second most complicated wristwatch and has become one of the grand complications most coveted by collectors and connoisseurs. From 2013 to 2016, this double-face wristwatch was available in a rare handcrafts version with a white-gold case and a blue enamel dial (6002G-001). It was followed in 2016 by a new version with a black enamel dial (6002G-010).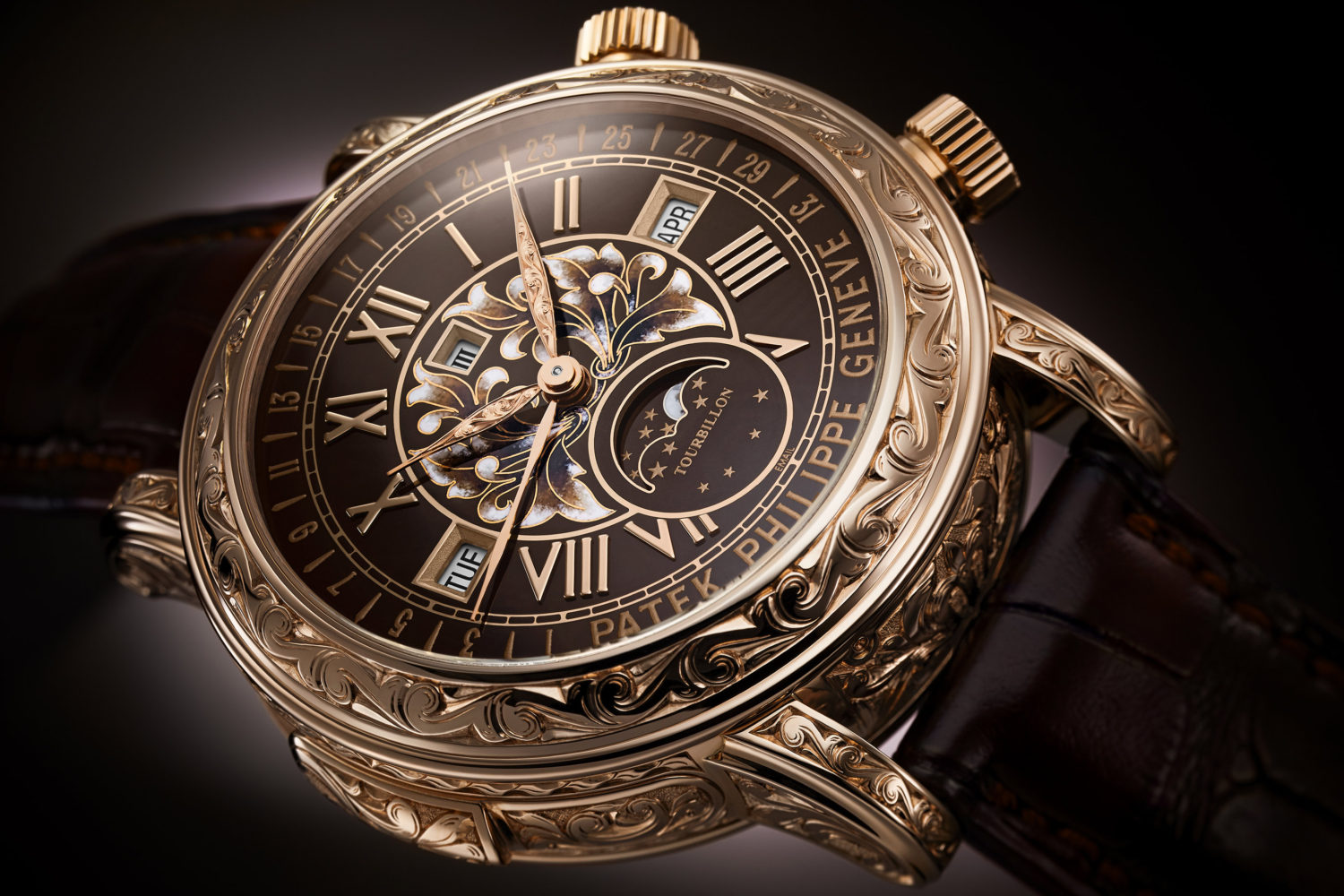 Ref. 5304/301R-001 : Minute Repeater with a retrograde perpetual calendar
A marvel of transparency in a new rose-gold case set with 80 baguette diamonds
The first Patek Philippe grand complication with a transparent sapphire-crystal dial was launched as the Ref. 5104 in 2006; it had a platinum case with rose-gold intarsias. From 2014 to 2018, it was followed by the Ref. 5304 in rose gold with white-gold intarsias. Now, Patek Philippe has reinterpreted this unusual timepiece as a new haute joaillerie version in rose gold. Its bezel, lugs, and fold-over clasp sparkle with the fire of 80 flawless Top Wesselton baguette diamonds (~6.22 ct). It puts the focus on a grand spectacle, highlighting the movement on the dial side.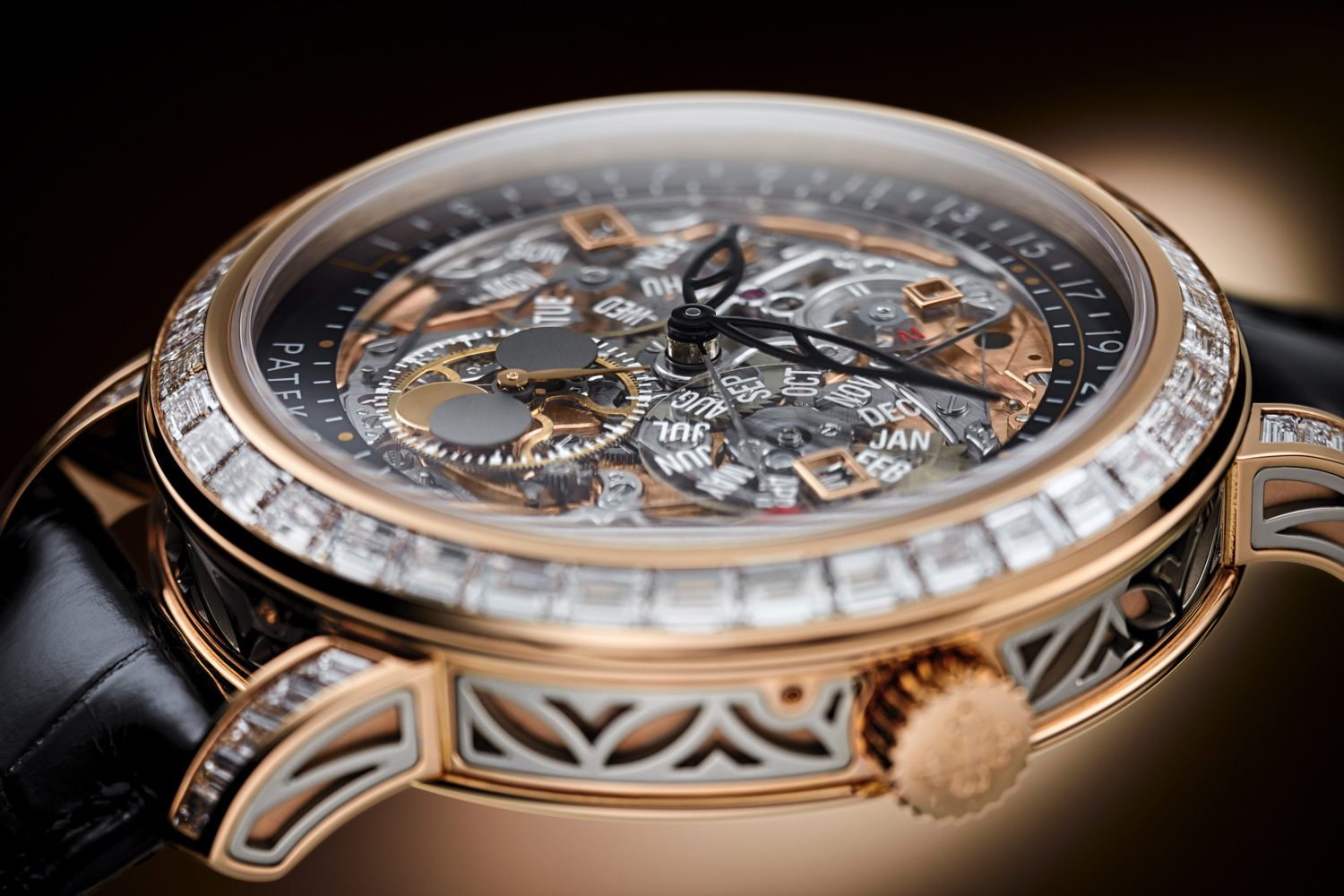 Ref. 5374G-001 : Minute Repeater with a perpetual calendar
A chiming watch with cathedral gongs and a white-gold case with a blue grand feu enamel dial
Introduced in 2016, the Ref. 5374 with a minute repeater and a perpetual calendar appealed to connoisseurs and aficionados of striking timepieces as an exceptional mechanical masterpiece in a platinum case beneath a black grand feu enamel dial. Now, Patek Philippe has reinterpreted this grand complication with a new approach in white gold with a blue grand feu enamel dial.
Ref. 7040/250G-001 : Rare Handcrafts Minute Repeater for ladies
A new feminine minute repeater with a blue grand feu flinqué enamel dial and a bezel with a Flamme® diamond setting
Available from 2011 to 2017, the Ref. 7000R-001 Ladies First Minute Repeater in rose gold with a cream- colored dial is making way for a new, highly refined model in white gold. It has a slightly larger diameter, a blue grand feu flinqué enamel dial and a diamond-set bezel. Its contemporary yet timeless looks grace a case in the typical officer's style with straight lugs and screwed bars.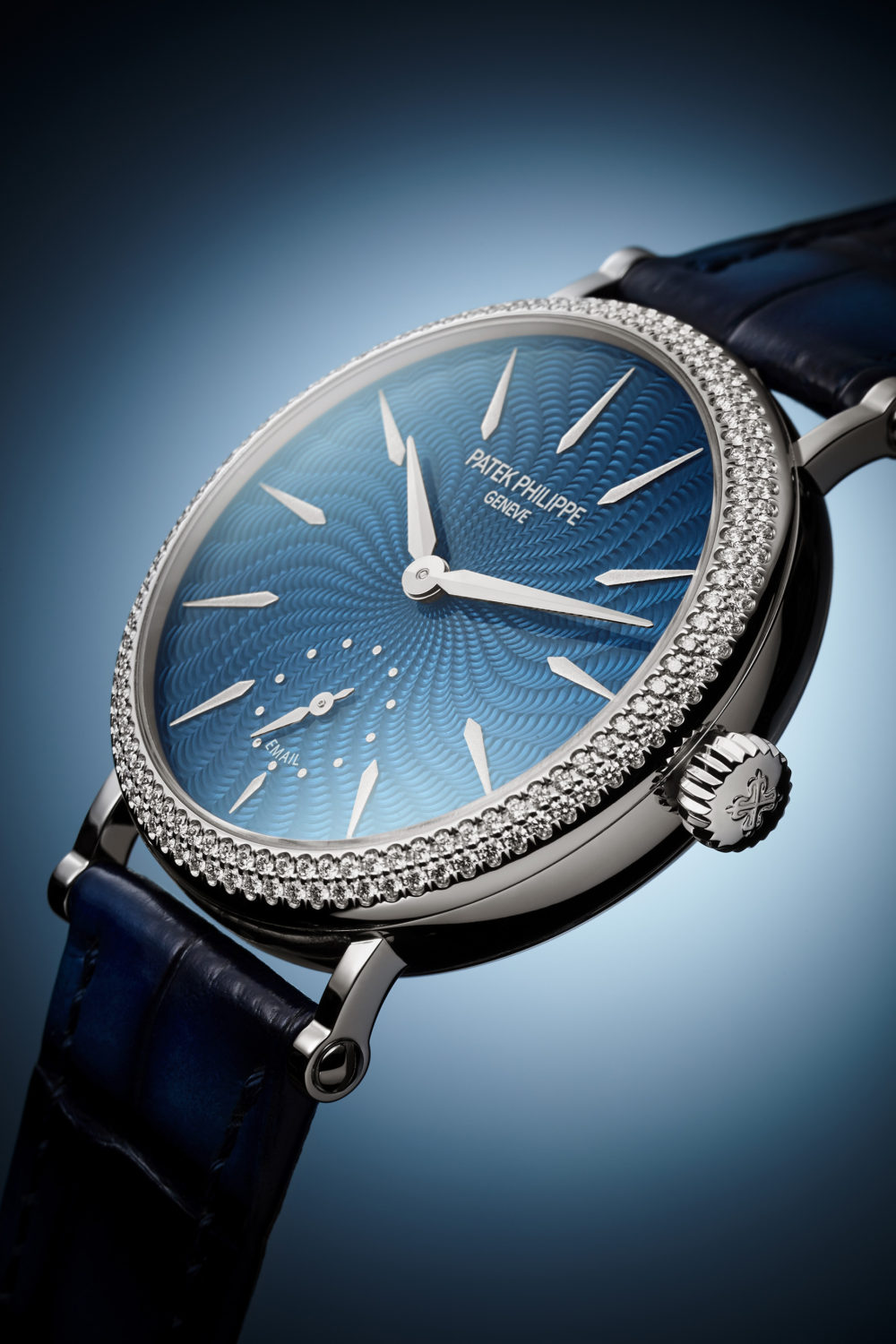 Ref. 5738/51G-001 : Golden Ellipse Haut Artisanat
A large Patek Philippe classic in white gold with a dial in champlevé enamel and manual engraving
In 2018, on the occasion of the 50th anniversary of the Golden Ellipse collection, Patek Philippe presented a limited edition of 100 sets consisting of a platinum timepiece and matching cufflinks; it paid tribute to rare handcrafts that have become scarce assets. To yet again reaffirm its technical and aesthetic competence, the manufacture enriched its current collection with a new interpretation of this exceptional watch with a polished white-gold case and subtly reworked dial decor details.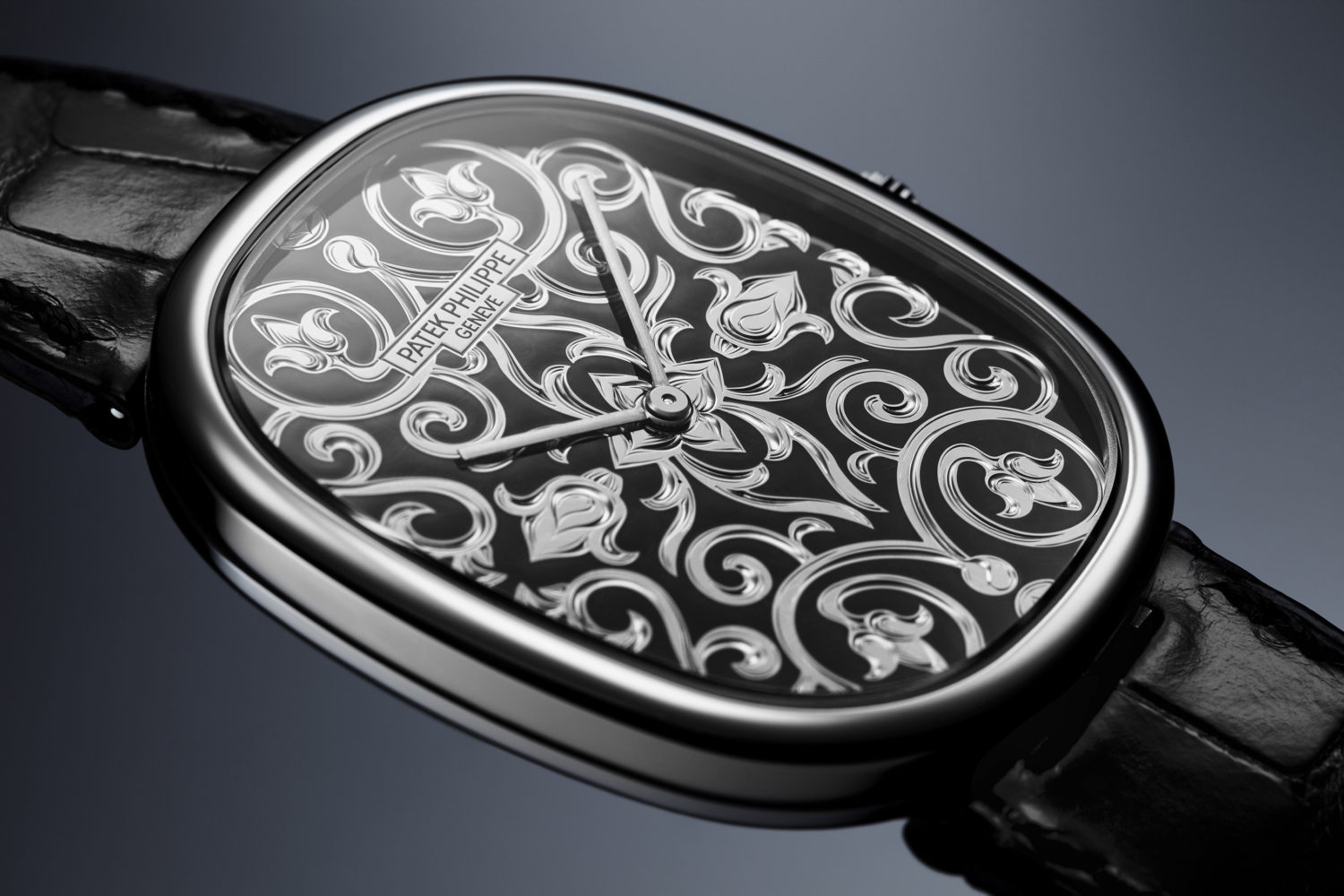 Ref. 7118/1450G : Nautilus Haute Joaillerie
A new version in white gold with diamonds in a random pavé setting
Since April 2021, Patek Philippe has been combining the iconic design of the Nautilus with the finesse of haute joaillerie and now presents the Ref. 7118/1450R-001 in rose gold. The case, the bezel, and the bracelet are decorated with diamonds in so-called snow settings. Several rows of stones sparkle on the dial, tracing the gently undulated relief, a typical facet of Nautilus ladies' models.
Now the manufacture is presenting this glittering garb in a new white-gold version. It is a magnificent example of the jeweler's art in the Patek Philippe style that combines creativity, artistic sensitivity, and flawless execution in a unique way.