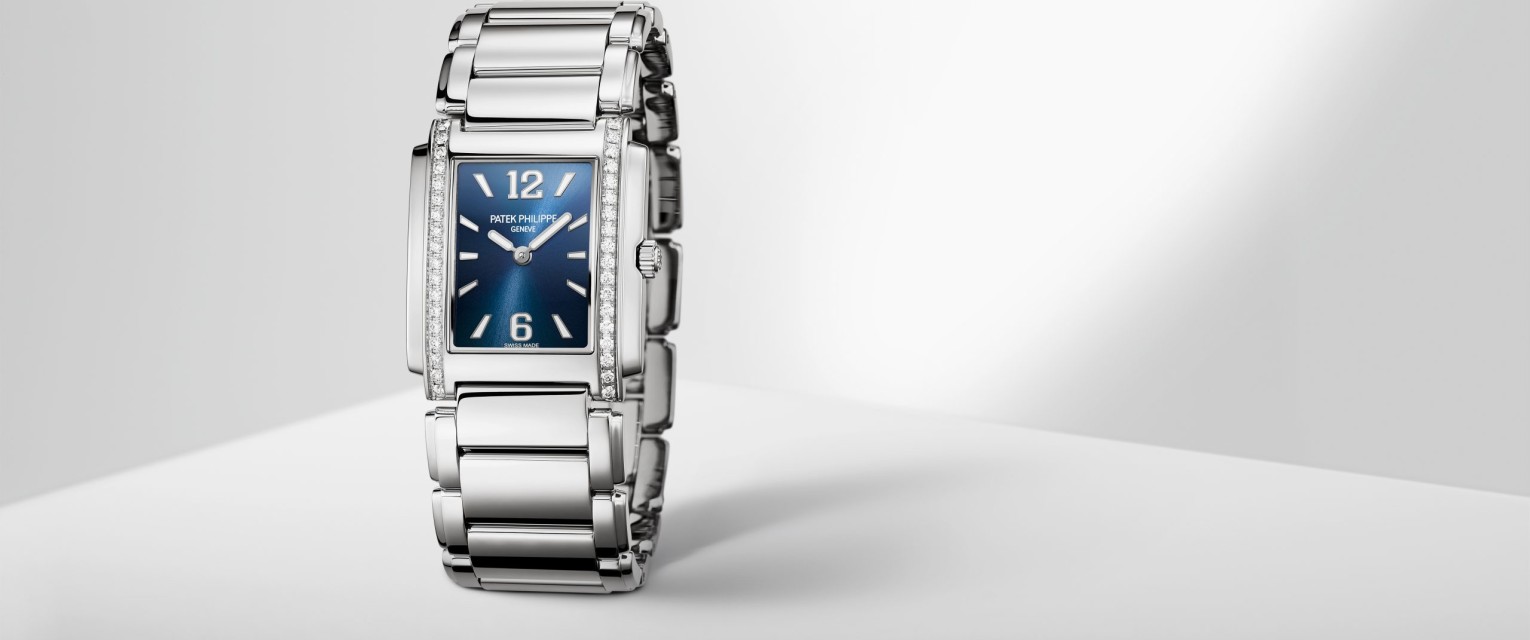 Introducing: The ref. 4910/1200A-001 and 4910/1200A-010
Discover the new faces of The Twenty~4
Patek Philippe is continuing the renewal of its Twenty~4 collection by reinterpreting the original model, the medium-size (25.1 x 30 mm) quartz "manchette" watch in steel. It is issuing two new versions in which the Roman numerals give way to the white-gold applied Arabic numerals 12
and 6 and the diamond hour markers are replaced by applied trapeze-shaped hour markers, also in white gold. This new face constitutes the first major change to the Twenty~4 of 1999 – and an aesthetic evolution in step with the design of the Twenty~4 Automatic. The two new
references feature a dial decorated with a blue sunburst (4910/1200A-001) or with a gray sunburst enriched by a gradation to black at the periphery (4910/1200A-010). Their white-gold applied numerals and hour markers and white-gold baton-style hands all have a luminous coating ensuring excellent legibility in the dark. The fine grooved rays of the sunburst emanating
from the center of the dial play with the light, lending a refined but dynamic touch.
The distinctive shape of the two-tier rectangular case is underlined by two rows of 18 Top Wesselton Pure diamonds (approx. 0.42 ct) set with textbook precision. A Calatrava Cross, emblem of the Patek Philippe manufacture, embellishes the crown. The supple, comfortable bracelet, fitted with a fold-over clasp, is a jewel in its own right. Each component is manually finished and fully polished. The Patek Philippe caliber E15 quartz movement is made with the same devotion to fine workmanship as the manufacture's mechanical movements. The new references 4910/1200A-001 and 4910/1200A-010 with Arabic numerals replace the previous references 4910/10A-001, 4910/10A-010, 4910/10A-011 and 4910/10A-012 with Roman numerals.
The manufacture is stepping up the allure of its Twenty~4 collection exclusively for women with a fresh interpretation of the original "manchette" or cuff-style quartz model in steel of 1999. It is launching two new versions adorned with white-gold applied Arabic numerals and white-gold applied trapeze-shaped hour markers. Designed as stylish companions to every facet of an active lifestyle, these Twenty~4 references 4910/1200A001 with a blue sunburst dial and 4910/1200A-010 with a gray sunburst dial stand out more than ever as paragons of timeless feminine elegance. Since 1839, timepieces for women have always featured prominently in Patek Philippe's collections – whether as the pocket watches or pendant watches of the nineteenth century or the wristwatches that first emerged in the early twentieth century. Several milestones in the manufacture's history also relate to watches destined for women, such as the first true wristwatch made in Switzerland, created for a Hungarian countess in 1868, and the Geneva company's very first striking wristwatch, a five-minute repeater housed in a small platinum case with an integrated chain bracelet in 1916.
Twenty~4 Quartz Medium reference 4910/1200A-001
Movement : Caliber E15 quartz
Dimensions: 15 x 13 mm
Height: 1.8 mm
Number of parts: 57
Number of jewels: 6
Quartz frequency: 32,768 Hz
Power source: Silver oxide battery 1.55 V
Battery life: Approximately 3 years
Displays: By hands: hours and minutes
Crown functions: Pulled out: to stop the movement and set the time
Features
Case:
Steel set with 36 brilliant-cut Top Wesselton Pure diamonds
(~0.42 ct.) on the bezel
Solid case back
Water-resistant crown
Water-resistance: 30 m (3 bars)
Case dimensions:
25.1 x 30 mm
Total height: 6.8 mm
Width between lugs: 14.1 mm
Dial:
Blue sunburst
18K white-gold applied Arabic numerals and 18K white-gold
applied trapeze-shaped hour markers, all with Superluminova®
luminescent coating
Baton-style hour and minute hands in 18K white gold with
Superluminova® luminescent coating
Bracelet:
Steel with fold-over clasp
Twenty~4 Quartz Medium reference 4910/1200A-010
Movement: Caliber E15 quartz
Dimensions: 15 x 13 mm
Height: 1.8 mm
Number of parts: 57
Number of jewels: 6
Quartz frequency: 32,768 Hz
Power source: Silver oxide battery 1.55 V
Battery life: Approximately 3 years
Displays: By hands: hours and minutes
Crown functions: Pulled out: to stop the movement and set the time
Features
Case:
Steel set with 36 brilliant-cut Top Wesselton Pure diamonds
(~0.42 ct.) on the bezel
Solid case back
Water-resistant crown
Water-resistance: 30 m (3 bars)
Case dimensions:
25.1 x 30 mm
Total height: 6.8 mm
Width between lugs: 14.1 mm
Dial:
Gray sunburst shading to black at the periphery
18K white-gold applied Arabic numerals and 18K white-gold
applied trapeze-shaped hour markers, all with Superluminova®
luminescent coating
Baton-style hour and minute hands in 18K white gold with Superluminova® luminescent coating
Bracelet: Steel with fold-over clasp